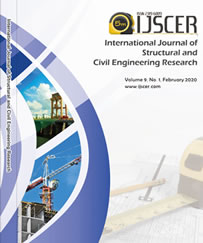 International Journal of Structural and Civil Engineering Research
is a scholarly peer-reviewed international scientific journal published quarterly, focusing on theories, systems, methods, algorithms and applications in Structural and Civil Engineering Research. It provides a high profile, leading edge forum for academic researchers, industrial professionals, engineers, consultants, managers, educators and policy makers working in the field to contribute and disseminate innovative new work on s
tructural and civil engineering research
. All papers will be blind reviewed and accepted papers will be published quarterly which is available online (open access) and in printed version.
Recently Published Papers
The Basic Tasks in Evaluation of Ancient Structures Sustainability and in Estimation of Enclosure Walls Bearing Capacity

Pavel Kuklik, Martin Valek, Pratik Gajjar, and Jacopo Scacco
Faculty of Civil Engineering CTU in Prague, Prague, Czech Republic
Abstract—The paper deals with the nonlinear computational modeling of the baroque enclosure masonry walls. The main tasks are input parameters for efficient advanced numerical tools and techniques, which are based on nonlinear and quasi brittle constitutive FEM modelling. For the work was used the knowledge and results from the Broumov Group Churches survey acquired in the frame of... [Read more]
ISSN: 2319-6009 (Online)
Abbreviated title: Int. J Struct. Civ. Eng. Res.
Editor-in-Chief: Prof. Eric Strauss
Associate Editor: Dr. Fabio de Angelis
Managing Editor: Murali Krishna. B
Assistant Editor: Sujitha R. Reddy and D. Savitha
DOI: 10.18178/ijscer
Abstracting/Indexing: Google Scholar, Cross-ref, etc.
E-mail questions to: IJSCER Editorial Office.
Prof.

Eric Strauss
Michigan State University, USA
I am very excited to serve as the first Editor-in-Chief of the
International Journal of Structural and Civil Engineering Research
(IJSCER) and hope that the publication can enrich the readers' experience
...