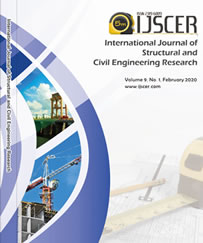 International Journal of Structural and Civil Engineering Research
is a scholarly peer-reviewed international scientific journal published quarterly, focusing on theories, systems, methods, algorithms and applications in Structural and Civil Engineering Research. It provides a high profile, leading edge forum for academic researchers, industrial professionals, engineers, consultants, managers, educators and policy makers working in the field to contribute and disseminate innovative new work on communications. All papers will be blind reviewed and accepted papers will be published quarterly which is available online (open access) and in printed version.
Recently Published Papers
Nonlinear Seismic Response Evaluation of Gradually Damaged Steel Shear Frames
Mohammad S. Miah, Md J. Miah, Md. M. Hossain, and Md. F. A. Faisal
Faculty of Civil Engineering, Dresden University of Technology - TU Dresden, 01187 Dresden, Germany
The objective of this paper is to investigate the dynamical responses of damaged and undamaged steel frames under earthquake loads. To do this end, experimental examination on steel frames have been conducted to investigate seismic response. Most of the high rise buildings are made of steel and prone to extreme dynamic loads such as earthquake, gale, blast and so on....... [Read more]
ISSN: 2319-6009
Editor-in-Chief: Prof. Jang-Ho Jay Kim
Associate Editor: Dr. Fabio de Angelis
Managing Editor: Murali Krishna. B
Assistant Editor: Sujitha R. Reddy and D. Savitha
DOI: 10.18178/ijscer
Abstracting/Indexing: Index Corpernicus, ProQuest, UDL, Google Scholar, Open J-Gate; etc.
E-mail questions to: IJSCER Editorial Office.
Prof. Jang-Ho Jay Kim
Department of Civil and Environmental Engineering, Yonsei University, Republic of Korea
"The role of a structural engineer today involves a significant understanding of both static and dynamic loading, and the structures that are available to resist them"