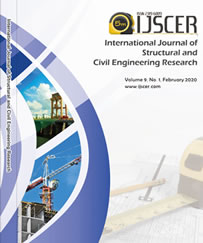 International Journal of Structural and Civil Engineering Research
is a scholarly peer-reviewed international scientific journal published quarterly, focusing on theories, systems, methods, algorithms and applications in Structural and Civil Engineering Research. It provides a high profile, leading edge forum for academic researchers, industrial professionals, engineers, consultants, managers, educators and policy makers working in the field to contribute and disseminate innovative new work on communications. All papers will be blind reviewed and accepted papers will be published quarterly which is available online (open access) and in printed version.
Recently Published Papers
Architectural Ephemerids in Terms of Generative and Parametric Design
Wiesław Rokicki and Anna Stefańska
Department of Structure Design, Construction and Technical Infrastructure, Faculty of Architecture, Warsaw University of Technology, Poland
Abstract—Nowadays architectural taste and the knowledge in fields such as architectural theory and practical abilities are not sufficient for being a good designer. Architects keep discovering multidisciplinary skills helpful in creating advanced designs. The use of digital generative design systems in ......... [Read more]
ISSN: 2319-6009 (Online)
Abbreviated title: Int. J Struct. Civ. Eng. Res.
Editor-in-Chief: Prof. Jang-Ho Jay Kim
Associate Editor: Dr. Fabio de Angelis
Managing Editor: Murali Krishna. B
Assistant Editor: Sujitha R. Reddy and D. Savitha
DOI: 10.18178/ijscer
Abstracting/Indexing: Index Corpernicus, ProQuest, UDL, Google Scholar, Open J-Gate; etc.
E-mail questions to: IJSCER Editorial Office.
Prof. Jang-Ho Jay Kim
Department of Civil and Environmental Engineering, Yonsei University, Republic of Korea
"The role of a structural engineer today involves a significant understanding of both static and dynamic loading, and the structures that are available to resist them"