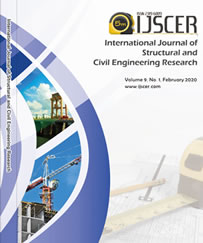 International Journal of Structural and Civil Engineering Research
is a scholarly peer-reviewed international scientific journal published quarterly, focusing on theories, systems, methods, algorithms and applications in Structural and Civil Engineering Research. It provide a high profile, leading edge forum for academic researchers, industrial professionals, engineers, consultants, managers, educators and policy makers working in the field to contribute and disseminate innovative new work on communications. All papers will be blind reviewed and accepted papers will be published quarterly which is available online (open access) and in printed version.
Recently Published Papers
Travel Demand Forecasting on Bicycle Route under Expressway in Thailand
Bhawat Chaichannawatik, Tassana Boonyoo, Sun Punurai, Pornnarong Leuanpech, and Ekarin Lueangvilai
This article intends to present bicycling demand on the pilot area under the Chalong Rat expressway (Ramintra rd. to Rama 9 rd. to Ratchadapisek rd.) according to a master plan of the bicycle network development under the right of way of Expressway Authority of Thailand (EXAT). The study began with a literature review on the current statistical usage of bike travel in Thailand, factors related to the use of bicycles, as well as.... [Read more]
ISSN: 2319-6009
Editor-in-Chief: Prof. Jang-Ho Jay Kim
Associate Editor: Dr. Fabio de Angelis
Managing Editor: Murali Krishna. B
Assistant Editor: Sujitha R. Reddy and D. Savitha
DOI: 10.18178/ijscer
Abstracting/Indexing: Index Corpernicus, ProQuest, UDL, Google Scholar, Open J-Gate; etc.
E-mail questions to: IJSCER Editorial Office.
Prof. Jang-Ho Jay Kim
Department of Civil and Environmental Engineering, Yonsei University, Republic of Korea
"The role of a structural engineer today involves a significant understanding of both static and dynamic loading, and the structures that are available to resist them"